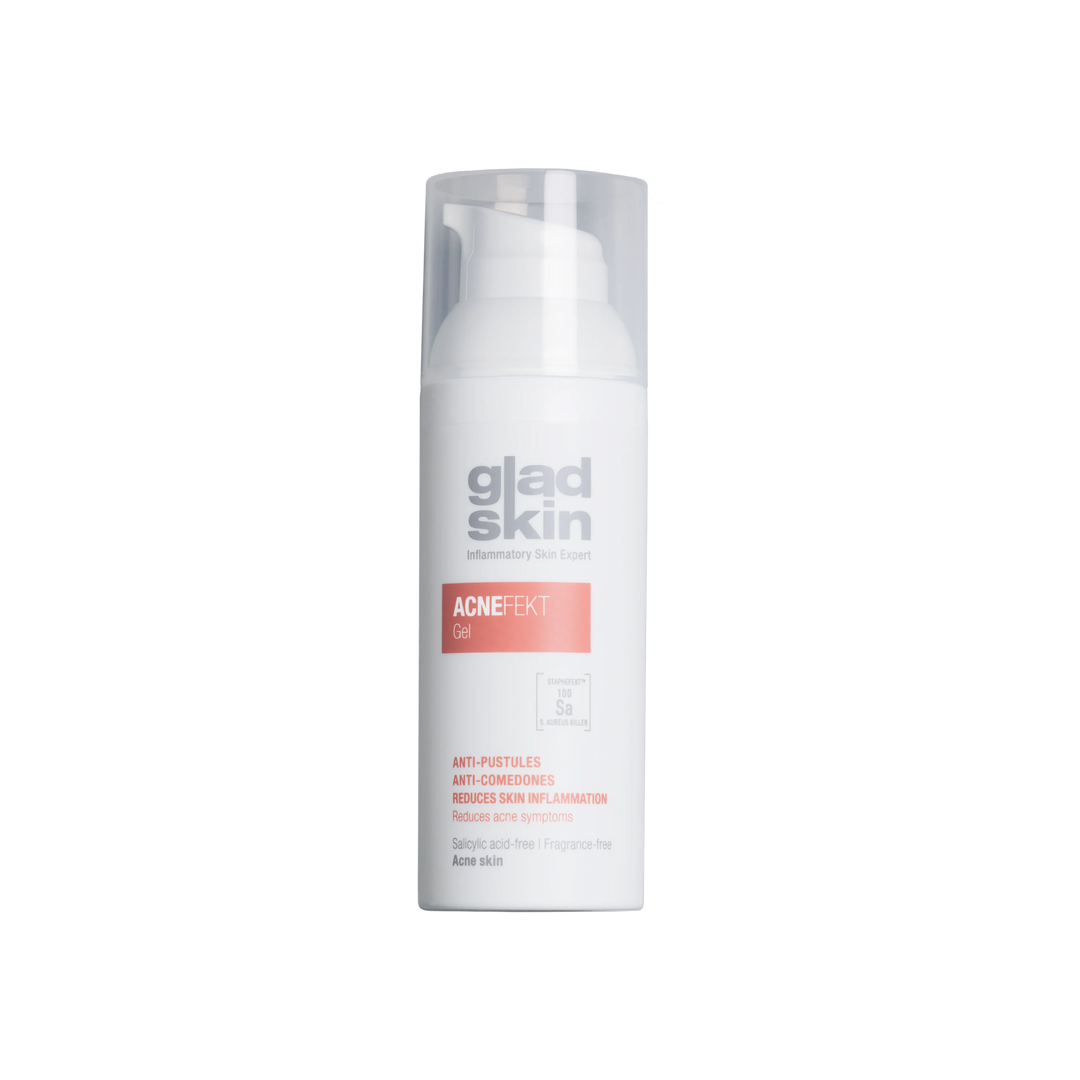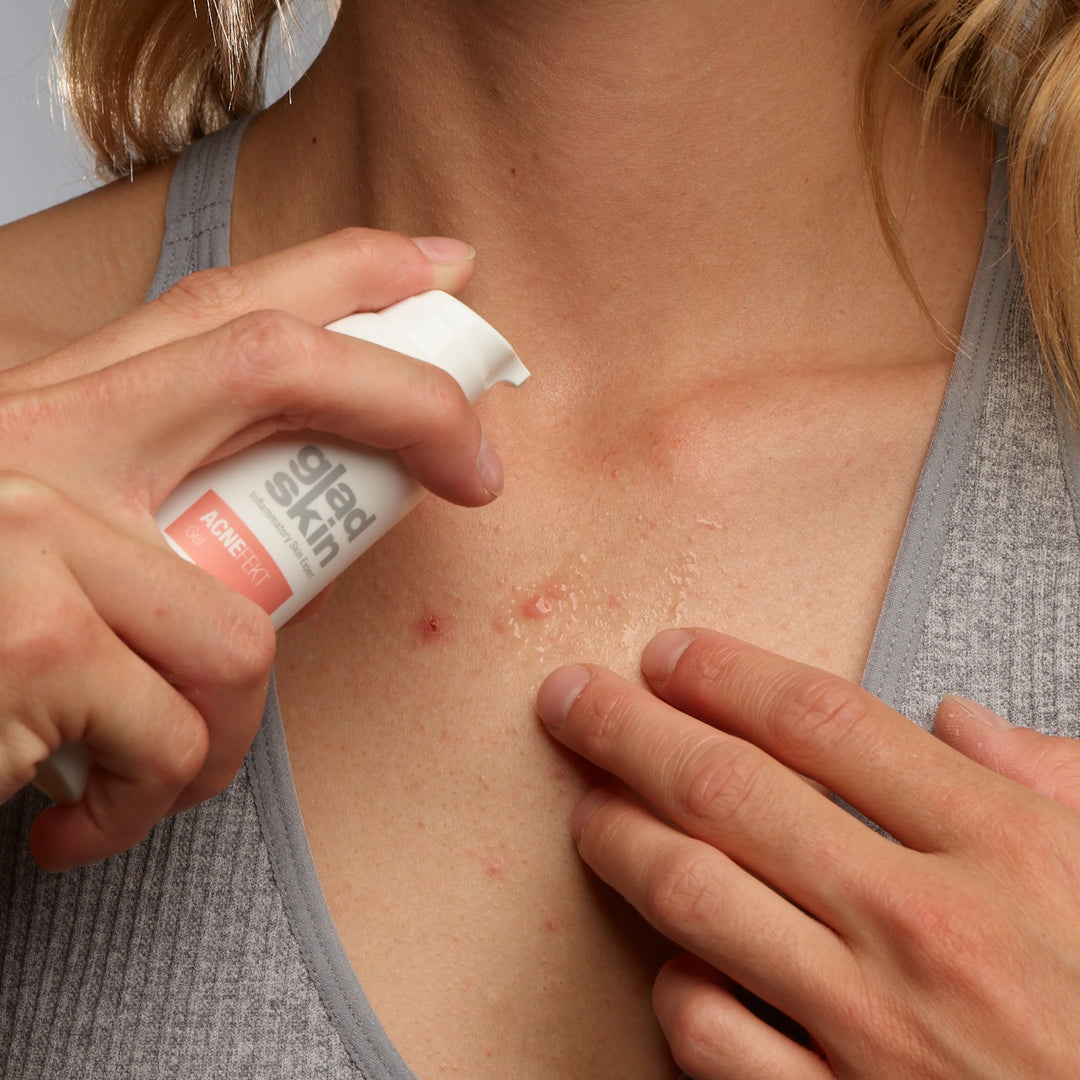 HIGH TOLERANCE FORMULA
Gladskin ACNEFEKT Gel gently restores balance to acne-prone skin so it looks clearer and healthier. Our patented formula without Salicylic-acid and alcohol respects your skin's natural microbiome and does not damage your skin's barrier like other typical acne-fighting products. Our hypoallergenic formula is dermatologically and clinically tested.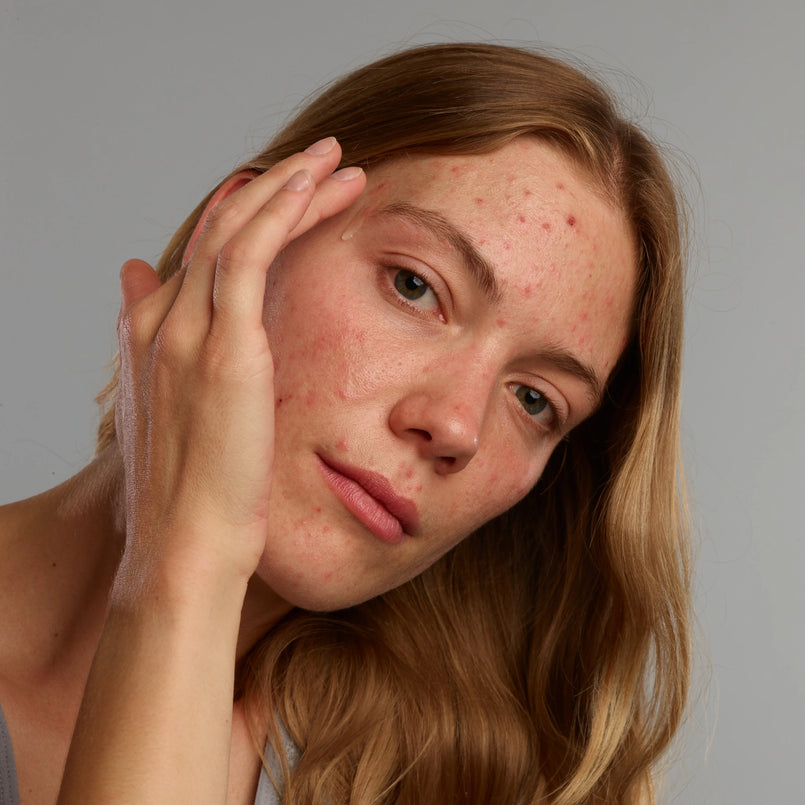 TEXTURE
ACNEFEKT Gel's thin consistency and lightweight texture allows the water based gel to spread smoothly across the skin.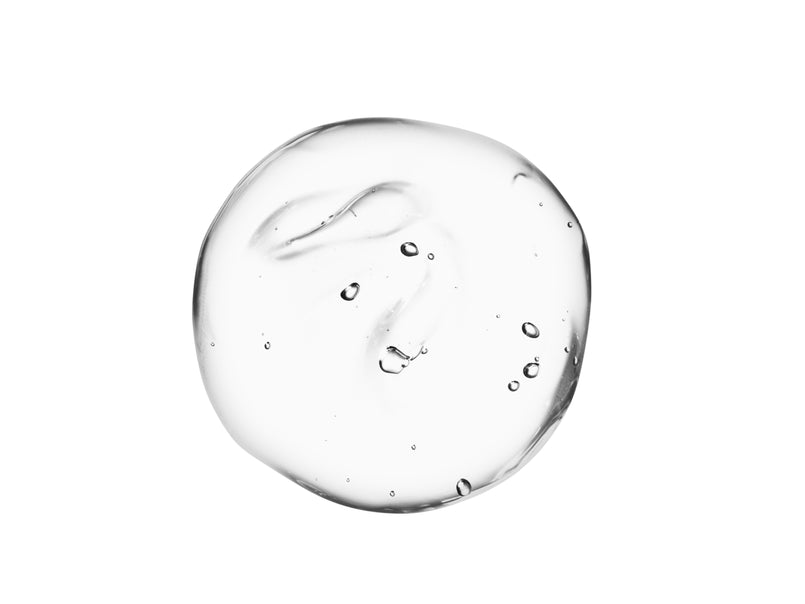 WHEN TO USE
Apply Gladskin ACNEFEKT Gel on and around acne-prone areas 2-3 times a day. Safe for use on face, chest and back.
HOW TO USE
1. Apply Gladskin ACNEFEKT Gel on clean skin that is free of creams, cleansers, powders, etc.
2. Apply a thin layer of the product on and around the affected areas with acne. 
3. Let the product dry 5 to 10 minutes before applying any other products on your skin.
TIPS
For best results, keep product refrigerated. This product is a Medical Device, read instructions before use.
Gladskin ACNEFEKT Gel is proven to have a reduction in acne symptoms. Gladskin ACNEFEKT Gel is an anti-inflammatory gel that reduces redness, pain, and inflammation caused by acne.
Our clinical study shows a reduction of inflammatory acne symptoms. After 4 weeks of use, participants confirmed reduction of pain and burning feelings and 53% declared an improvement in their quality of life.
EFFICACY CLINICALLY PROVEN
*Bjorn Herpers. (2022). Gladskin – Arosa Study Acne and Rosacea In collaboration with the Acne Expert Group of the Dutch Society for Skin Therapists. Study included 68 patients.
53%
CONFIRM AN IMPROVEMENT IN THEIR QUALITY OF LIFE AFTER 4 WEEKS*
58%
CONFIRM A REDUCTION  OF NODULAR ACNE (SEVERE TYPE OF ACNE). AFTER 4 WEEKS*
58%
REPORT PAIN REDUCTION AFTER 4 WEEKS*
NEW TYPE OF TREATMENT
New strategies for the treatment of bacterial infections are needed, as resistance is emerging against established antibiotics. There is no other targeted treatment for bacterial infections. Antibiotics kill not only the unwanted bacteria but also the beneficial ones living on and inside our body, and their use can cause side effects and induce the development of resistance.
IMPORTANCE OF PRESERVING OUR MICROBIOME
Nature designed your skin with a built-in security system your skin microbiome. Just like your gut, your skin has an active microbiome - billions of bacteria that live on its surface. Almost all of these bacteria are good and contribute to a healthy skin. They should be left intact. When bad bacteria take over, many common skin problems arise. So it is important to choose skincare that protects your skin's microbiome.
S. aureus THE BAD BACTERIA
Some bacteria can cause problems like the Staphylococcus aureus (S. aureus). The scientific community acknowledges that S. aureus is often over present in case of skin inflammation. These bad bacteria can cause or aggravate the acne symptoms and damage your skin barrier.
STAPHEFEKT™  THE BREAKTHROUGH THAT TARGETS AND KILLS S.aureus
Staphefekt™ specifically targets Staphylococcus aureus, including strains that are resistant to antibiotics such as MRSA (Methicillin-resistant Staphylococcus aureus). Thanks to its bacterial specificity it leaves beneficial bacteria unharmed, which is especially important in case of longer term use.
Endolysins are bacteria-killing enzymes that originate from bacteriophages (phages), the natural enemy of bacteria. Both have been around for billions of years. The Staphefekt™ endolysin exhibits two additional useful characteristics to combat bacterial infections: rapid killing of bacteria and very limited likelihood of emerging resistance.
GLADSKIN ACNEFEKT GEL CONTAINS SA.100 (STAPHEFEKT™)
This is a new era in the treatment of skin conditions that can reduce your acne symptoms.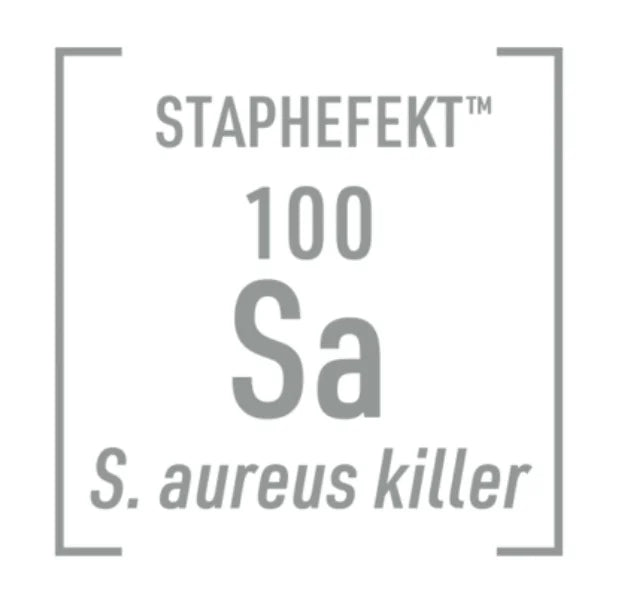 HIGH TECH BOTTLE
ACNEFEKT Gel is specifically designed to restore your skin's microbiome, from the product itself to the packaging it comes in. 
Our high tech bottle means no preservatives necessary. Designed to keep out everyday germs so we don't have to add skin-irritating preservatives to kill them. Preservatives kill good bacteria too, damaging your skin's natural microbiome.
SHELF LIFE AND STORAGE
The expiration date of this product is indicated on the dispenser. For an optimal benefit of the main ingredient in Gladskin ACNEFEKT Gel, we recommend you store the product in the refrigerator. Gladskin ACNEFEKT Gel should not be stored at temperatures below 0°C or above 25°C.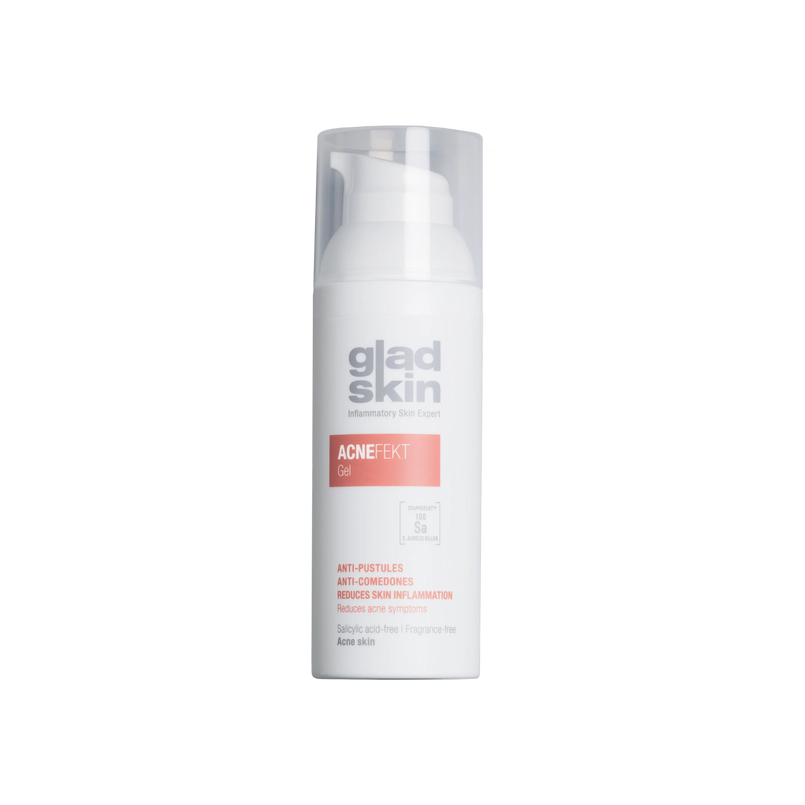 INGREDIENT LIST - AQUA, PROPYLENE GLYCOL, HYDROXYPROPYL METHYLCELLULOSE, GLYCERIN, ARGININE HCL, SODIUM CHLORIDE, TROMETAMOL, STAPHEFEKT ™ SA.100, CALCIUM CHLORIDE.
Is the ACNEFEKT Gel suitable for use on all body parts?
Gladskin ACNEFEKT Gel is intended for external use on the skin of both face and body. Do not use on open wounds and mucous membranes.
What is the recommended treatment duration for the ACNEFEKT Gel?
Gladskin ACNEFEKT Gel can be used as long and as frequently as necessary. In addition, effectiveness reduction due to treatment habituation or bacterial resistance have never been reported. Therefore, Gladskin can be used both therapeutically and prophylactically (preventively). Once an optimal improvement is experienced, usually within a few weeks, you can try gradually reducing the initial treatment frequency from twice a day to a maintenance frequency of once a day or a few times a week. 
Routine of usage
1. REMOVE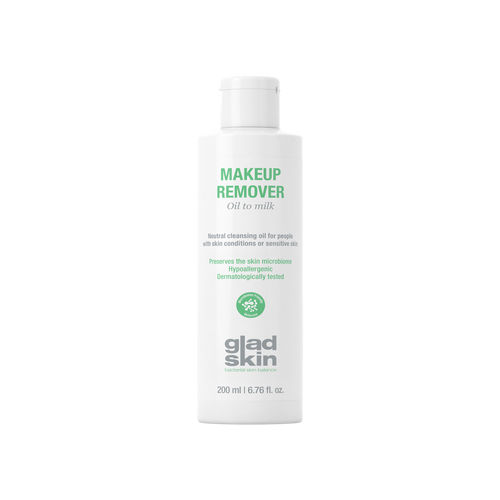 Taking the first step towards clean skin is essential, and one way to do that is by effectively and gently removing makeup and dirt from your sensitive skin, leaving it looking and feeling fresh and rejuvenated.
2. CLEAN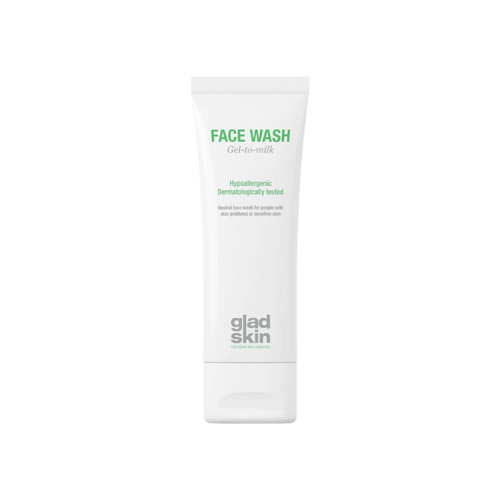 Achieve a perfectly cleansed and hydrated skin with Gladskin Face Wash. With its specially gentle yet effective formula remove impurities, and excess oil from your skin, while delivering a boost of hydration and nourishment.
3. TREAT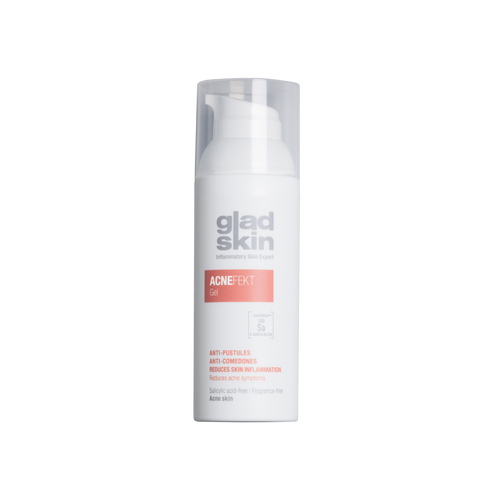 Looking for a reliable solution to ease the pustules and inflammation caused by acne? Treat your acne symptoms by applying a thin layer of ACNEFEKT Gel on and around the affected areas 2 to 3 times a day.